The White Sweater
May 31, 2020 • 2 min read
Introduction
Trends are something that keeps recurring every now and then. Trends are made by influencers, celebrities and fashion houses. What are trends though? Trends are a widespread practice that comes and goes with time based on different factors like the influencer, price, social media, etc.
Trends start from :
Runways (Fashion Capitals) - In the New York fashion week, DVF made crops tops a trend (2014)
People around us or streets - Vans a retro style shoe brand gained popularity after two normal high school boys wore it and made a video that went viral called Damn Daniel.
Influencers/ Celebrities/ Trendsetters - Neon clothes was a major trend created by Kim Kardashian, Rihanna popularised mini bags by Jacquemus.
Fashion bloggers - A famous fashion blogger Lisa Gachet made DIY fashion trending.
Social media - Instagram made retro style and street style trending and brought it back to the limelight. Trends start through these ways and get picked up by everyone else from there. Companies make products more desirable according to the on going trends. One such trend that was the white sweater worn by Chris Evans in the movie Knives out.
History of the cable knit sweater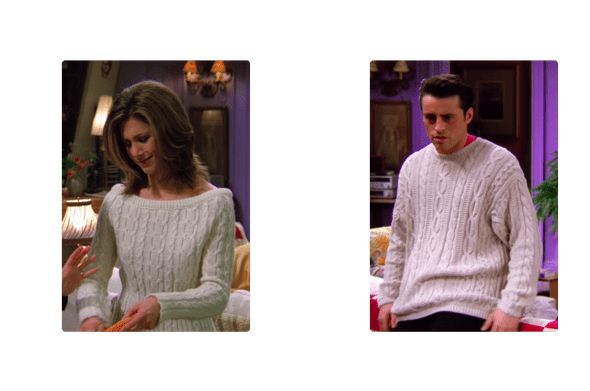 This type of sweater has existed for as long as I can rememebr. I even remember watching it on a popular sitcom called Friends where both a male and a female character had worn it. Regardless of its appearence on a sitcom, the pattern of cable knitting has always been common, especially with sweater designs. Nonetheless it had unexpectedly become trendy in November, 2019.
How did it regain popularity?
When the movie Knives out was released, the sweater was seen being worn by one of the lead actors of the film. It was worn by Chris Evans, an American actor in this movie. He is a popular movie star and known for his portrayal of Steve Rogers / Captain America in the Marvel Cinematic Universe. The costume designer of this movie is Jenny Eagan and the more accurate name of this swearter is - Aran cable-knit sweater. The sweater instantly gained popularity around the world, even though it has been an existing design for a long time. Also almost everyone wanted to own one.
5 Reasons why I think it became a trend
A classic - The sweater brings out a feeling of instant familiarity with the audience, cable knitting being a timeless and well-known pattern. It also gives out a old world charm that most people like.
Festive season - The movie was released during Christmas season and this outfit had the right amount of festive charm to it that everyone wanted to wear it on Christmas.
The influencer - Celeberities have the potential to make almost anything a trend and the fact that such a popular actor wore it, made this simple sweater into a momento of the movie itself. He pulled it off so effortlessly and made it look attractive and fanciable to people.
Mass appeal - A main reason why people loved this sweater and the reason why it became trending was because most people thought that they could pull it off too. The simplicity in the design appeals to comman man. Another reason is that it gives a warm, cozy and a confortable look and feel.
Price - Price is something that could determine the outreach of any trend. Since the price of raw materials and manufacturing the sweater wasn't too expensive, the sweater also came at an affordable price. It could easily be made by any fashion house and with speed.