What is a Moodboard?
May 13, 2020 • 5 min read
When I decided to go for fashion designing, I wanted to understand what I had to know or do to get into fashion schools.
I researched on application requirements of different design schools, most of them asked for a portfolio. Portfolio requirements of each school varied but most of them had asked for a Moodboard (schools like FIT New York, Parsons school of design, etc).
I had never heard of this term before seeing it as a portfolio requirement. Presently I'm pursuing a pre-college course from Parsons, Paris, where was asked to make a Moodboard for any brand as an assignment.
What is Moodboard?
It is a concept that I wasn't very familiar with other than what the word itself suggests. Researching about Moodboards, I found that it is like a collage that contains images, text, etc that can be used as a tool to communicate your thoughts and feelings about an idea.
For example, if I want to describe a brand as a whole then I would have to talk about its founders, products, specialty, and ideas they stand for.
This elaborate process could be made much simpler by just showing a Moodboard of the brand because it would contain all of the above mentioned in a picturesque form, which is easier to comprehend.
A Moodboard can convey the entire idea behind a brand at one glance.
Similarly in a portfolio, a Moodboard plays the role of giving identity to your work. By identity, I mean it explains based on what your fashion line is inspired by like nature, city, cultures, or anything that inspires you.
It effectively communicates the source of inspiration for your designs of the fashion line.
For example, many fashion lines are inspired by the season of the year like spring, summer, fall and winter. The clothes are designed and categorized according to the season in which they are worn in.
5 reasons why Moodboard is a beneficial tool:
Inspiration - It conveys the very foundation of your idea. it brings to focus the attributes, emotions, vision, characteristics and the goal of the idea you would like to convey.
Communication - The board ensures it communicates the right idea about the fashion line.
Direction - It gives guidance and direction that should be abided so that the fashion line doesn't go astray from the main idea.
Assertion - The Moodbard asserts your idea and affirms to its beliefs.
Overview - A Moodboard is one of the best ways to encapsulate the entire idea of the fashion line and its design.
Types of Moodboards
Physical - They are boards made from newspaper and magazine cuttings and drawing physically on a paper or cardboard. They are put together in the form of a collage.
Digital - They are many websites that allow you to make beautiful Moodboards. These sites are easy to use and are very easy to learn. The user simply has to gather images, text, and other materials digitally and can use such tools to put it together in the format of your choice.
Factors while making a Moodboard
Balance is the key - I personally don't like overly clumsy boards as it confuses me and doesn't always get to the point and conveys the right message. There should be adequate information and appropriate images and not too many at that.
Color palette - Ensure that the boards doesn't have an excessive amount of colors that is unnecessary as it could be very jarring. Stick to one color theme and make it consistent throughout the board.
Audience - Moodboard may be primarily made for your inspiration and vision but even your audience should be able to resonate with it, so that your idea is effectively communicated.
Consistency - Being consistent is very crucial because it ensures that we always stick to the foundational idea. Consistency helps in standing by the ideas beliefs.
What all to include - Things that are typically put in a Moodboard are images, text, letters, shapes, palettes, and visual metaphors. It can also include quotes or any other resources of your choice.
How I made my first Moodboard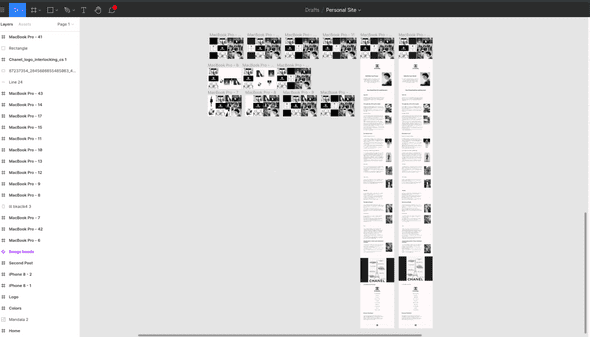 So from Parsons I was asked to make a Moodboard based on any brand of my choice as my first assignment. In the assignment, I also had to include the story of the brand and how it contributed to the history of fashion.
I chose Chanel as my brand because I love that brand for its minimalistic elegance and its revolutionary products.
Steps I followed to make the Moodboard:
I chose a brand of my choice that I could resonate with.
I researched extensively on the brand and its elements and tried to understand the energy of the brand.
I decided to go for a black and white theme because it exuded the energy of Chanel as a brand and the ideas that they stand for.
I wanted the Moodboard to primarily have only images and very little text. I wanted to add text only if it elevated the portrayal of the brand. So I was careful about adding text.
I went through a few websites that provide free images and picked the ones I liked. There were some beautiful images that I liked but were not black and white however I downloaded them even so and used the black and white filter so I can use that image.
I recently came across this design tool called Figma (I even designed my website in Figma) using which I designed this Moodboard.
I put up all the pictures in a single frame and kept rearranging it, until it made sense in a particular disposition.
What I like about Moodboards
"A picture is worth a thousand words" a famous adage exactly explains the point of a Moodboard. What a thousand words cannot explain can easily be done by taking a glance at a Moodboard.
What I really like about Moodboards is the fact that there are no rules as to how creative you can get.
You can freely express yourself with anything that inspires you in a captivating way.
Helpful links to make Moodboards